*Deeparaj Hegde and Alpana Utture
Department of Neonatology, Lokmanya Tilak Municipal Medical College, Sion, Mumbai, Maharashtra, India.
Email: princedeepraj81@gmail.com

A term male neonate weighing 2640 grams, born after 37 weeks of gestation by vaginal delivery had enlarged scrotum at birth. Antenatal period was complicated by polyhydramnios; ultrasonography done at 34 weeks had revealed dilated stomach and bowel loops. The scrotal swelling was soft, fluctuant, non-tender, non-reducible, bright on transillumination with bilateral testes being palpated separately (Fig. 1). He gradually developed abdominal distension, and bilious aspirates by end of day 1 of life. Plain X-ray of the abdomen showed scattered peritoneal and scrotal calcifications (Fig. 2). Diagnosis of intestinal obstruction with Meconium periorchitis was made. Explaratory laporotomy revealed Ileal atresia that was treated by resection and primary anastomosis. Scrotal swelling resolved completely by 3 months on follow-up.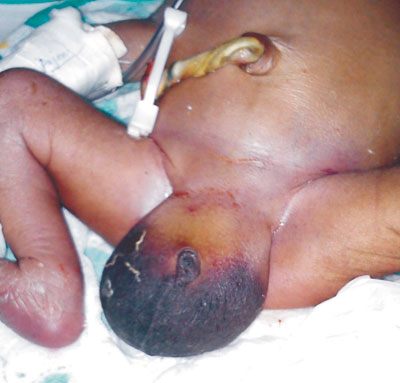 Fig. 1 Huge scrotal swelling with penis buried in scrotal mass.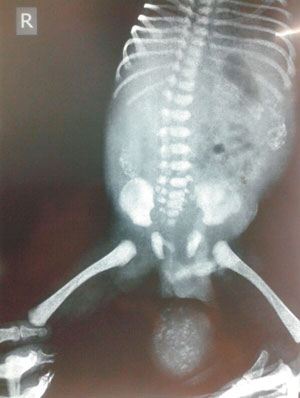 Fig. 2 X-ray of abdomen showing peritoneal and scrotal calcifications.
Meconium periorchitis occurs when meonium in the peritoneal cavity reaches the paratesticular tissue through patent processus vaginalis, and incites intense inflammatory reaction. Typically, the scrotal swelling is mistaken for hydrocele at birth but the mass progressively hardens due to calcification. Isolated calcifications in the scrotum without peritoneal involvement are seen in neoplasms such as teratoma, rhabdomyosarcoma, metastatic neuroblastoma, lymphoma and pseudotumors. The visualization of the normal testicle on ultrasonography differentiates meconium periorchitis from scrotal tumors. Epididymal inflammation, torsion testis and scrotal abscess are other testicular masses at this age; these present as painful scrotal mass.