Dipti Das, Anupam Das and Nilay Kanti Das
Department of Dermatology,
Medical College and Hospital,
Kolkata, West Bengal, India.
Email: anupamdasdr@gmail.com
A 5-year-old otherwise healthy boy presented to us with lesions over scalp, for 1 month. He had been treated with various systemic antibiotics and topical corticosteroids without any response. Cutaneous examination revealed a large mildly tender erythematous boggy swelling, associated with overlying crust (Fig. 1) and loss of hair over occipital area, extending towards the temporal region and post-auricular area of right side. There was sero-purulent discharge from few lesions. Nails and mucosae were normal. A KOH preparation made from the lesion showed fungal hyphae and the culture for bacterial growth showed growth of Staphylococcus. A diagnosis of Kerion was made and the patient was given prednisolon 1mg/kg/d for 2 weeks and griseofulvin 375 mg daily at bedtime for 6 week; the lesions showed marked improvement with re-growth of hairs in a few areas (Fig. 1b).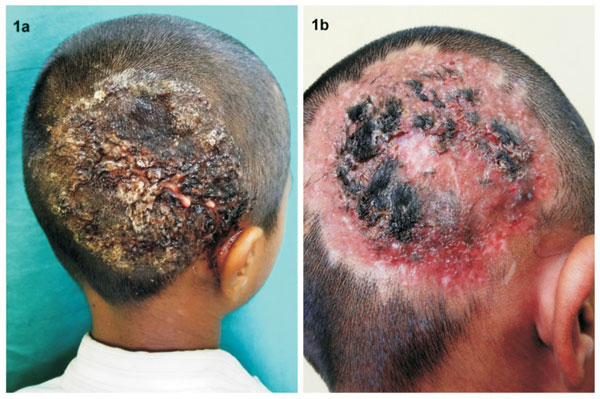 Fig. 1 Large erythematous boggy swelling associated with overlying crust (1a) and the healed lesion after treatment (1b).
A Kerion is an inflammatory variant of tinea capitis as a result of overzealous host response leading to boggy, purulent plaques with abscess formation and alopecia. It is most commonly caused by Trichophyton mentagrophytes and Trichophyton verrucosum. Clinical differentials include pyodermas (lesions are painful, absent hyphae), folliculitis decalvans (pustular folliculitis leading to scarring alopecia; fungal hyphae negative), langerhans cell histiocytosis (involvement of other organs system with a grave course) and dissecting cellulites of scalp (begins with deep inflammatory nodules, primarily over the occiput, that progress to coalescing regions of boggy scalp; fungal hyphae negative).