A 2-month-old girl was brought with swelling on the dorsum of both hands and feet. She was born to non-consanguineous parents, by normal vaginal delivery. There were no adverse antenatal or perinatal events. The salient features on examination were non-pitting edema of distal parts of the extremities, webbing of the neck, a low hair line and widely spaced nipples (Fig. 1). These classical manifestations prompted a clinical diagnosis of Turner syndrome. Chromosomal studies confirmed that the propositus had a 45, X0 karyotype. Investigations excluded coexistent cardiac or renal anomalies.
The incidence of Turner syndrome is estimated to be 1 in 8000 live births. Poor development of lymphatic channels in fetal life is implicated in the causation of abnormalities of the ears, shield chest, lymphedema and coarctation of arota. Bicuspid aortic value (50%) and coarctation of aorta (20.6%) are the common cardiac anomalies associated with Turner syndrome. Other abnormalities that have been described include ectopic kidney, abnormal renal vasculature, double collecting system, primary hypothyroidism (10-30%) and scoliosis.
Spontaneous pubertal development and menses, as a consequence of residual ovarian function, have been observed in 20-25% and 2-5% of patients with Turner syndrome, respectively. Nearly 30 pregnancies in sponta-neously menstruating women with Turner syndrome have been reported.
It is important to recognize patients with Turner syndrome at an early age to ensure optimal physical growth. Development of secondary sexual characteristics can be improved with hormone replacement therapy.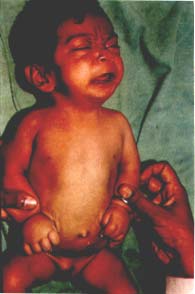 Fig. 1. Clinical photograph showing webbing of neck, edema on dorsum of hands and widely spaced nipples.
Meena Sood,
Amita Trehan,
Division of Pediatric Hematology-Oncology,
Advanced Pediatric Center,
Postgraduate Institute of Medical
Education and Research,
Chandigarh 160 012, India.