A 16-year-old girl presented with a few slow-growing asymptomatic swellings on her buttocks since 8 years of age. Examination showed skin-colored, fleshy, non-tender, partially compressible, firm, protuberant mass with a cerebriform surface, located over the right gluteal area extending to the natal cleft (Fig. 1). Systemic examination and routine laboratory evaluation was normal. Histopathological examination showed clusters of mature adipocytes arranged in the mid and upper dermis around blood vessels and eccrine glands, along with hyperkeratosis and acanthosis of the overlying epidermis. A diagnosis of classic type of nevus lipomatosis cutaneous superficialis was made.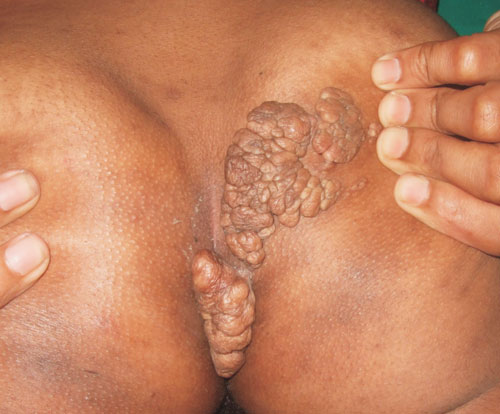 Fig. 1 Multiple skin-colored, fleshy, protuberant mass with a cerebriform surface.
Nevus lipomatosis cutaneous superficialis (NLCS) is a rare hamartoma of adipose tissue presenting as multiple, soft, skin-coloured or yellowish lobules that may coalesce to give rise to the distinctive cerebriform surface. The lesions may present at birth or develop in the first two decades of life. Lower back, hip, upper thigh and abdomen are the commonly affected sites. The common differential diagnoses in the present case were: plexiform neurofibromatosis (folded overlying skin and hyper-pigmentation), verrucous epidermal nevus (dirty gray or dark brown coalescing papules with a verrucous surface), superficial lymphatic malformation (grouped, tense vesicular lesions with clear colourless fluid). Since NLCS is usually asymptomatic, treatment is required only for the cosmetic reasons. Excision is usually curative and recurrences after surgery are uncommon.