A 2-day-old male baby (Fig. 1) of 38 weeks gestation, weighing 2.8 kg. presented with generalized centripetal, various stages of rash ranging from erythematous macules to fluid filled vesicles. The skin lesions were classical of varicella. The mother (Fig. 2) had developed chicken pox 5 days prior to delivery.
Fig. 1. Newborn baby with generalized various stages of rash (macules, vesicles, umbilication and crust formation).
The baby was treated with intravenous acyclovir (10 mg/kg, 8 h) on the day of apperance of rash for 7 days. The baby survived without any complication and now he is 1 year old.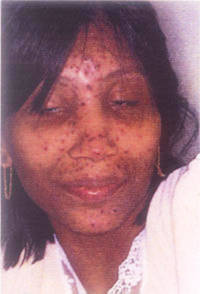 Fig. 2. Mother with facial exanthem mostly scab with few vesicles.
Although the initial infection is intrauterine, it should not be confused with fetal varicella as the newborn develops the rash postpartum. Congenital varicella may be a serious illness with hepatic, pulmonary and CNS involvement if there is delay in therapy. It may be prevented by giving Varicella zoster immune gloubuin to the newborn just after delivery to mother who has had chicken pox in the preceding one week prior to parturition. I could not give immune globulin to the newborn due to non availability.
Tarun Choudhuri,
B.R. Singh Hospital,
Eastern Railway, Calcutta 700 014, India