A 1½-old girls presented with history of bilious vomiting for two days. There was no history of incessant cry or bleeding per rectum. On examination, the child had some dehydration. Abdomen was distended and an ill defined mass was palpable just to the right of umbilicus. The clinical suspicion was that of an intussusception, and the child was admitted and intravenous fluids were administered. X-ray abdomen revealed a single dilated bowel loop suggestive of small intestinal obstruction. Ultrasound abdomen showed a thin walled clear cystic lesion of size 3 x 3 cm in the ileum with proximal dilated loops suggestive of a cystic duplication of ileum with intestinal obstruction.
The child was kept nil per orally and placed under observation. The distension progressively increased and X-ray abdomen after 6 hours showed increasingly dilated bowel loops, which necessitated an emergency laparotomy. During surgery, a clear cystic lesion of size 3x3 cm was found intraluminally in the jejunoileal junction causing complete intestinal obstruction. The affected portion of bowel was resected and a primary end to end jejunoileal anastamosis was done. Post-resection, the specimen bowel was opened and a firm translucent foreign body (Fig. I) densely adherent to bowel was found in the lumen with focal discoloration and thinning of the resected bowel.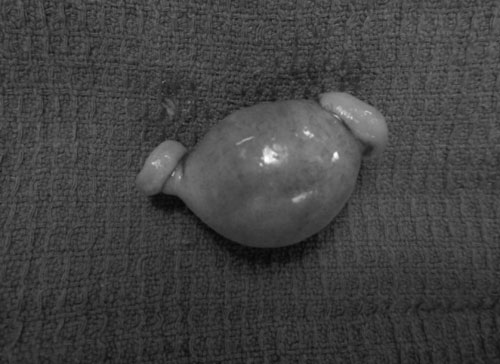 Fig. 1 Hygroscopic foreign body inside the small bowel.
Subsequent questioning of parents revealed the presence of similar objects at their residence, bought from free market for their hygroscopic properties, which explained the possibility of accidental ingestion. The child had an uneventful postoperative period and was discharged home after six days.
Superabsorbent polymer (SAP) beads causing intestinal obstruction was first reported in in 2012 [1]. A similar case of ingestion of Superabsorbent crystal jelly in an infant causing intestinal obstruction requiring surgery and subsequent mortality was published subsequently from Pakistan [2]. The toys involving these SAP beads are banned in Malaysia, UK and Italy. The objective of presenting this unique case is to alert the pediatricians to the existence of such toys in the market, and alert them to educate the general public to watchfully avoid such toys till a ban is enforced in India.
References
1. Zamora IJ, Vu LT, Larimer EL, Olutoye OO.Water-absorbing balls: A "growing" problem. Pediatrics. 2012;130:e1011-4.
2. Mirza B, Sheikh A. Mortality in a case of crystal gel ball ingestion: An alert for parents:  APSP J Case Rep. 2012;3:6.