Proximal migration is a rare complication of the ventriculoperitoneal shunt for con-genital hydrocephalus. The sites reported for proximal migration include subgaleal space(1), scalp(2), subdural space, cavity of a subdural hematoma and ventricles(3,4). We encountered proximal migration of an entire ventriculoperitoneal shunt into the ventricles and would like to share our experience.
A 6-month-old baby presented with increase in size of head since birth. The clinical diagnosis was congenital obstructive hydrocephalus, which was confirmed by CT scan. A ventriculoperitoneal shunt was placed (Chabbra shunt - medium pressure). On the second postoperative day, there was subcutaneous collection of CSF around the valve assembly. The shunt was functioning. The baby was discharged on the 9th POD when the perishunt collection had decreased. At 4 weeks follow up, the shunt could not be palpated in its position and the perishunt collection had disappeared. The anterior fontanelle was depressed and the head circumference was 46 cm. The skiagram showed the entire shunt in the ventricle (Fig. 1). Shunt removal and revision was advised but parents did not turn up for surgery.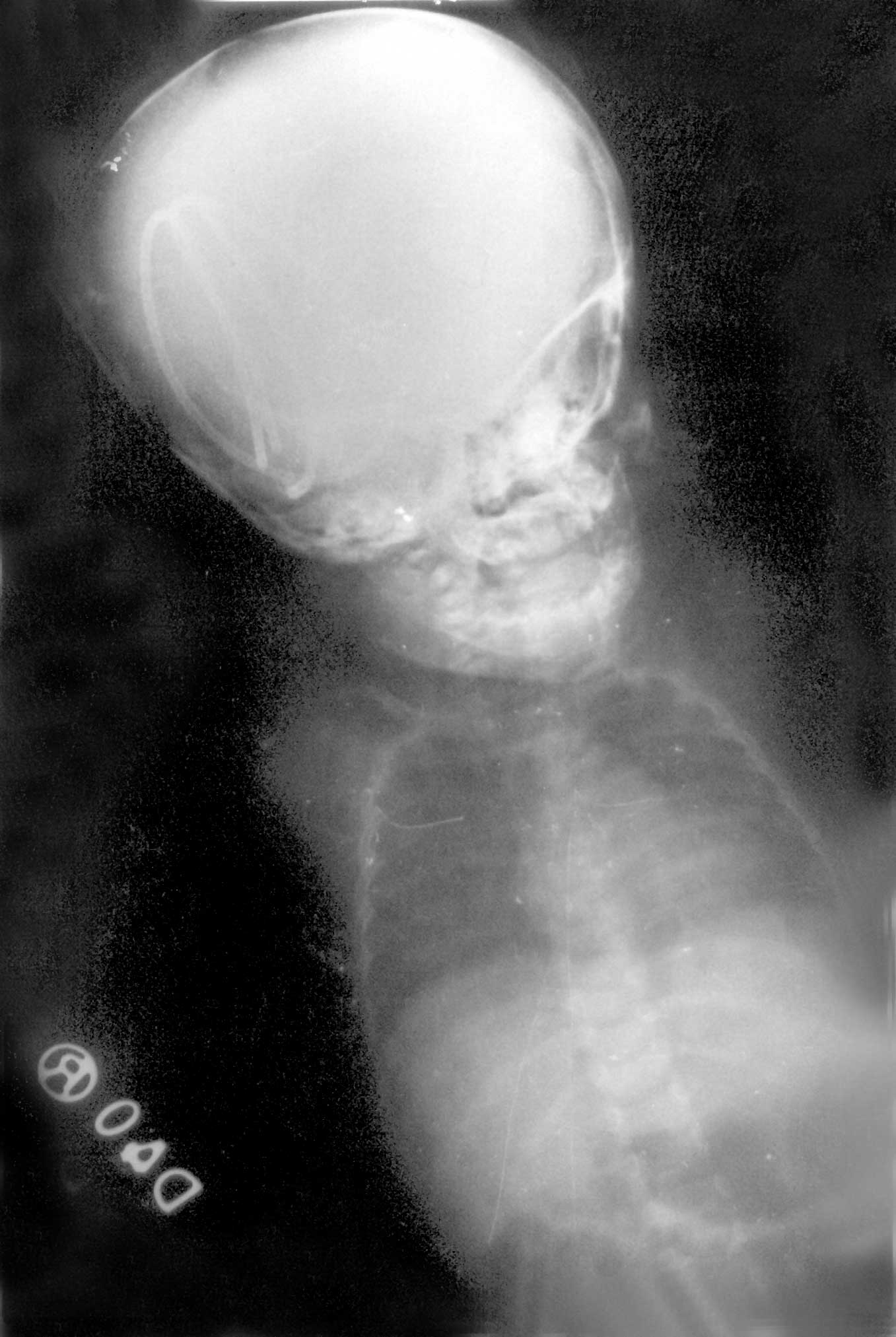 Fig. 1. Skiagram showing the entire ventriculo-peritoneal shunt migrated into the ventricles.
For migration to occur, the shunt needs to be under traction and to be able to move in the subcutaneous tissue. Traction requires a point of fixation and patient growth. Inflammatory granulation tissue noted around migrated catheters might act as an anchoring point for the "windlass effect" for migration of the shunt(2). Host reaction to foreign material of the shunt tubing results in degeneration and calcification leading to shunt failure. Younger patients with more potential for growth have a greater risk of shunt fracture or dislocation. Tortuous subcutaneous tract associated with neck movements, negative sucking intra-ventricular pressure and positive pushing intra-abdominal pressure have been thought to contribute to migration(3). Making a large dural hole around the ventricular catheter may predispose to periventricular CSF collection and easy migration of the valve system(2). Most migrations occur in the early postoperative period up to 3 months(3,4). Mechanical pressure over the valve by massaging might have led to the migration in our case in the presence of surrounding perishunt collection. A mechanism of 'retained memory' of the shunt tubing has also been proposed as the appearance of the coiling was similar to that in the packaging when supplied(1).
The treatment recommended for ventricular shunt migration is removal of the migrated shunt tube and replacement as though the patient may remain asymptomatic, visual field defects have been reported(4,5).
Shilpa Sharma,
D.K. Gupta,
Department of Pediatric Surgery,
Institute of Medical Sciences,
BHU, Varanasi 221 005, India.
Correspondence to:
Prof. D. K. Gupta,
D55/188-A,
Aurangabad,
Varanasi-221010, India.